Model Car Parts@@@@ON SALE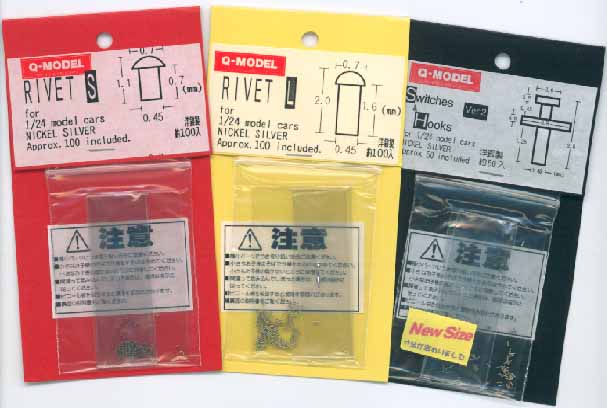 RIVET S@approx.100 included@@@2,900yen
IT'S MUST PARTS TO DETAIL UP YOUR 1/24 TH ALUMINUM BODIED CARS.THEY ARE MICRO SMALL SIZE RIVET MADE OF NICKEL SILVER. THE S TYPE WITH SHORT NECK CAN BE USED EVEN ON THE 1/43RD SCALE MODELS.
RIVET L@approx.100 included@2,900yen
THIS IS A LONG TYPE WITH STRETCHED NECK, SO YOU CAN PICK THEM UP WITH A TWEEZER.
Switches & Hocks @approx.50 included 1,500yen SOLD OUT
THEY ARE PULL SWITCHES ON DASHBOARDS, OR TONNER COVER HOOKS. NOW WE SELL THE VER.TWO WHICH IS MORE REALISTIC THAN BEFORE.@
DECAL BRE HINO SAMURAI @@800yen@@IT'S A DECAL FOR SAMURAI.
DECAL BRE HINO CONTESSA @@1600yen@@DECAL FOR BRE HINO CONTESSA SOLD OUT